[et_pb_section fb_built="1″ admin_label="section" _builder_version="3.26.6″ custom_padding="54px|||||"][et_pb_row column_structure="1_2,1_2″ admin_label="row" _builder_version="3.25″ background_size="initial" background_position="top_left" background_repeat="repeat"][et_pb_column type="1_2″ _builder_version="3.25″ custom_padding="|||" custom_padding__hover="|||"][et_pb_text _builder_version="3.26.6″]
As the only official Syringe Services Program (SSP) in West Tennessee, A Betor Way is excited to announce that a free, harm reduction needle exchange will be in operation every Friday from 6-9 PM during the month of August!
Not only does this provide an opportunity for people to gain access to clean, unused syringes, it is a place to connect with other resources, learn about possible treatment options, and even get a wound or health assessment without judgement or fear. 
Did I mention that everything is also FREE??? Thanks to generous donors and partnerships with the Shelby County Health Department and CAAP's, inc. we are able to offer all of this at no charge to anyone!
Our tents and tables will be set up at the corner of Sycamore View rd. and Shelby Oaks drive, come rain or shine, so please come by and see our friendly staff if you or someone you love has a need. We are also looking for volunteers interested in learning more about A Betor Way and SSP's and will have sign-up sheets available.
[/et_pb_text][/et_pb_column][et_pb_column type="1_2″ _builder_version="3.26.6″][et_pb_text admin_label="Text" _builder_version="3.26.6″ background_size="initial" background_position="top_left" background_repeat="repeat"]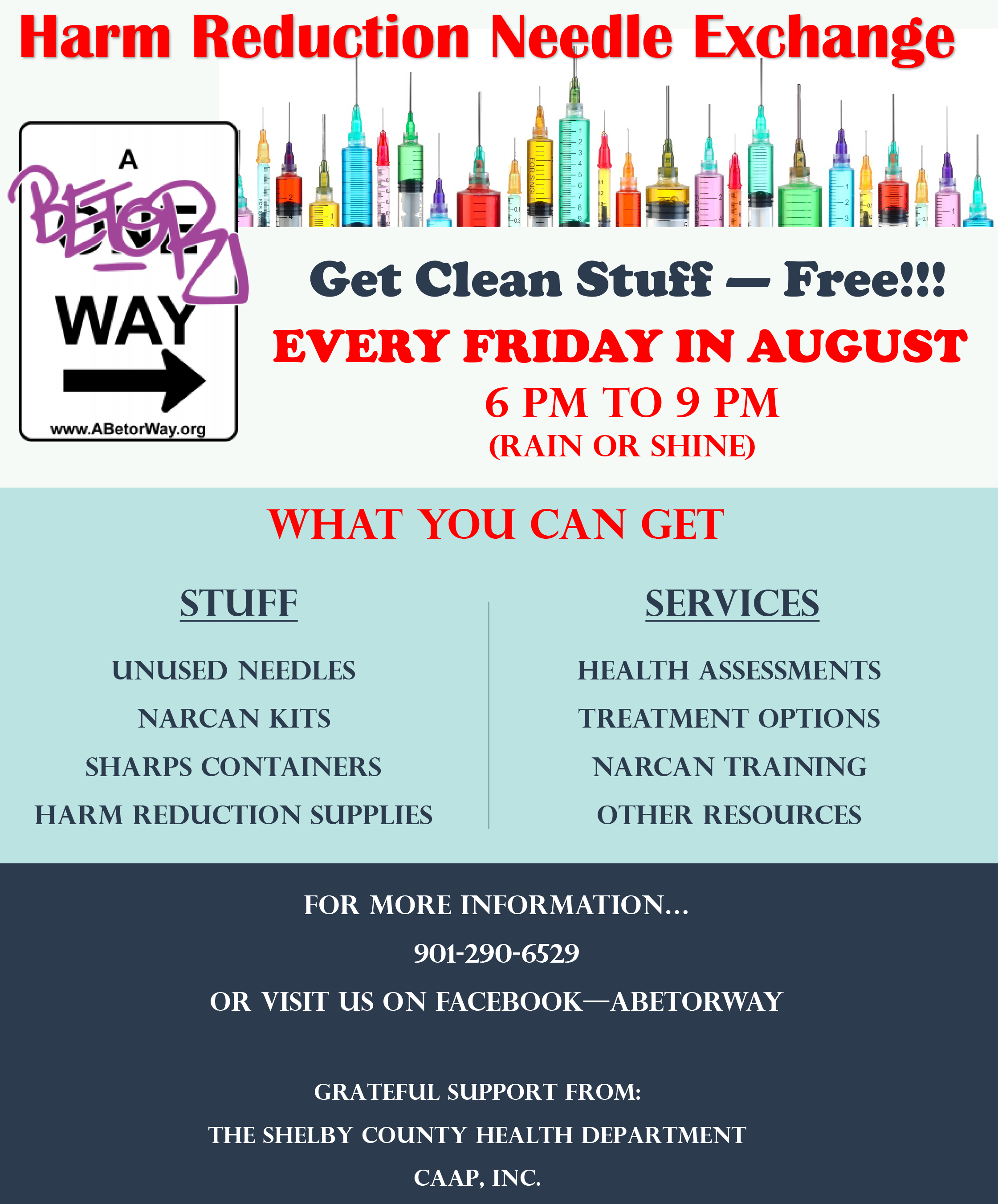 [/et_pb_text][/et_pb_column][/et_pb_row][/et_pb_section]